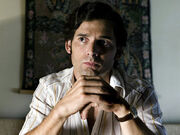 Avner Kaufman
(born 24 February 1947), born
Yuval Aviv
, is an
Israeli
-
American
security consultant who was also a
Mossad
agent. Kaufman led a team of
kidoni
during
Operation Wrath of God
, an operation to assassinate those responsible for the 1972
Munich Massacre
 in a series of hits that took place from
Lebanon
to
London
between late 1972 and 1974. Kaufman killed 9 targets alleged to be parts of the
Black September Organization
, but he lost three members of his team to attacks by his enemies, who also had a list of names that they intended to kill. He later moved to Brooklyn, New York City with his wife and child after his operation ended in 1974, and he worked for the US government as a security consultant.
Biography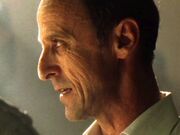 Avner Kaufman was born Yuval Aviv on 24 February 1947 in Kfar Menachem,
Israel
to a German-Jewish family, with his grandfather coming from Frankfurt. His father was a hero of the
Israeli Defense Force
, and his mother sent him to a kibbutz when he was young so that he could be taken care of after his father was imprisoned. Kaufman became a chef at the kibbutz, learning great skills with cooking before joining 
Mossad
, serving in the armed forces just like his father. General
Zvi Zamir
 himself swore his unit into Mossad. Kaufman got married to an Israeli woman named Daphna, and she gave birth to a baby daughter in 1973 while Kaufman was in London on an assassination mission.
In October 1972, Kaufman watched the coverage of the 1972 Olympics in Munich, Germany, in which the Black September Organization demanded that 200 Palestinians held as "political prisoners" would be released in exchange for kidnapped Israeli athletes. As Palestinians in refugee camps cheered on the terrorists as the news was displayed on the television, Kaufman and his wife watched in horror as the Palestinians blew up the two helicopters filled with hostages. The horrific massacre, shown on television worldwide, fuelled Israel's rage against the terrorists, and Prime Minister Golda Meir planned an operation to punish those responsible. She intended to assemble a team of highly-trained Jewish operatives from around the world to track down and kill eleven Palestinian leaders believed to be responsible for the massacre.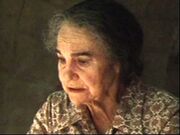 When Kaufman left his house one day, he saw an Israeli soldier who told him to get in his vehicle so that they could go to Jerusalem for an unknown reason. Avner entered the vehicle, where he met with General Zamir in the back seat. In Jerusalem, he met with Prime Minister Golda Meir, Generals Nadav and Yariv as well as Harari, and he was given tea by the Prime Minister. Zamir told him that he wanted him to undertake an important mission that could take him away from his family for many years, and he could not tell anyone, even his wife: the Prime Minister informed him that he was going to take part in assassinating the terrorist leaders in
Operation Wrath of God
. After the meeting, Zamir told him that the next morning, he had to tell them if he would agree to do the mission. When the leaders left,
Mossad
handler Ephraim - who had been silent for the meeting - talked with him, and he told him that he was his case officer. He would handle the mission, and he would be Avner's "boss", although he would have to deny knowing him for plausible deniability.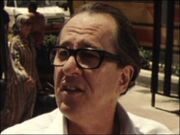 The next day, Avner agreed join the operation. He resigned from Mossad, and also gave up his social security, his insurance, and all forms of government aid. A Ukrainian-Jewish accountant told him that he would have an operational funds box of $250,000 on Union de Banques Suisse on the Rue de Commerce in
Switzerland
, and he would refill the box for Kaufman to use for his operations; however, Avner would have to show him receipts. Later, Ephraim told him that he would kill eleven targets, all of the Palestinian leaders deemed responsible for the massacre. He would not operate in
Arab countries
or the
Eastern Bloc
, but only in
Europe
. Ephraim told Avner that he could not contact him, because he "didn't exist" officially. Ephraim also told him that he would give him four assistants for the operation with various specialties, and Avner would be the team's leader. He was told that he would be the man who killed the terrorists, and the hard part would be escaping punishment. Ephraim told him that he wanted everyone to read about famous Arab terrorists dying in 
Le Monde
, and he would use bombs for most of them, not guns.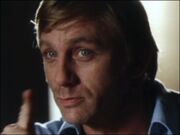 Avner flew to Geneva on Swissair Flight 74, and he entered the Swiss Bank Union, where he took out his six boxes provided to him by Mossad. He took some of the money and put it in his red satchel, and he met with his other team members. Avner made a meal for them, and they introduced themselves to him. There was Steve, a
South African
taxi driver who just joined Mossad - he would act as the getaway driver; an antique seller from Frankfurt named Hans, who would act as the group's financial adviser; a Belgian toymaker named Robert from Brussels who would build bombs for the assassinations; and a war veteran named Carl, who would clean up the crime scenes to remove any evidence that Israel was behind the murders.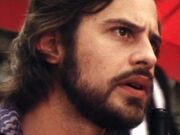 Avner called his high school friend
Andreas
, who was a member of the
communist
Red Army Faction
of
Germany
, which needed hard cash for its operations. Avner met Andreas and his girlfriend Yvonne in Rome,
Italy
, and after sharing cigarettes and marijuana together, Avner claimed that he was working for some rich Americans and wanted the names and locations of some Palestinian leaders. Avner gave them $100,000 in cash to give him names for some money. Avner convinced them that he was not reallyy working for Americans when he identified
George Washington
on the $1 as "
James Madison
". The next day, Andreas, his friend Tony, and Avner spoke at a table outside in Rome, where they had lunch. Tony told him that his first target,
Wael Zwaiter
, was in Rome. He had a niece that he called every day in Damascus, and had just translated 
Arabian Nights
into Arabic.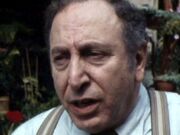 Steve and an Italian woman that the RAF secured for the operation sat in a car and watched Zwaiter as he talked to a crowd of people about his translation of
Arabian Nights
, and Carl sat in a seat near Zwaiter, who was speaking to the crowd. Zwaiter walked away, and Steve followed him in his car, tracking him down to his home. Zwaiter walked down the left sidewalk, crossed the street to the right sidewalk, and he entered a tavern where he could grab some milk, jam, and a bottle of wine, and made a phone call with the shop's phone (his phone bill had expired, and the generous Italian owner allowed him to use her phone). The
kidoni
followed him, and Steve, Avner, and Robert followed in their car as the local Italian woman exited. Carl smoked a pipe outside of the tavern, watching as Zwaiter made a phone call.
They drove to the hotel that Zwaiter stayed at after following him, waiting for him there. Steve waited outside of the hotel in his car. Zwaiter, carrying his bag of groceries, entered his apartment and waited for the elevator. Robert and Avner walked down either staircase, but they waited behind Zwaiter to enter the elevator with him. Avner asked if he was Wael Zwaiter, and when he confirmed his identity, the two aimed their guns at him. Zwaiter spoke in Arabic and told them to put their guns down, motioning to put their pistols down and not shoot him. They shot him eight times, and when he fell, he crushed his bottles of milk, wine, and jam, leaving a puddle on the floor. Steve drove them away, leaving Zwaiter's smoking body in front of the elevator. Carl later headed to the scene, where he picked up the bullets and cleaned the scene of any evidence. Avner decided to celebrate by drinking some wine with his team. When he spoke with Carl, Carl brought up an old Pesach story about the drowning of the Egyptians by God, who was disturbed by the Jews celebrating about their deaths, trying to make it clear that the team shouldn't rejoice over killing a man; Avner ended the story, saying that Jews in the story had celebrated because the Jews were safe from the Egyptians. Hans calculated that Zwaiter cost the team $352,000 to kill.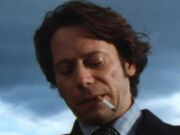 Avner later headed to Paris, where his friend Andreas introduced him to a man named Louis as "Franz Storsch". He shopped for food with Louis, and Louis told him that he was an agent with a profitable sideline in information and not French intelligence,
CIA
, or
KGB
. Louis was the son of "Papa", a French criminal who was the leader of "
Le Group
", an information services organization that could track down people across the world. He told Avner that he could locate anyone anywhere for anyone, and he decided to work with him in exchange for money. Back at their safehouse, they watched news coverage of the hijacking of a Lufthansa plane leaving Damascus in which a Palestinian held a hand grenade by the head of Captain Klausen, and also the release of the Munich kidnappers to Tripoli,
Libya
. Steve said that they should go to Tripoli and kill them, but they weren't allowed to go to Arab countries for assassinations, so the idea was dismissed. Avner told them that the next target would be
Mahmoud Hamshari
, who was in Paris. The team traveled to Paris,
France
to track down Hamshari.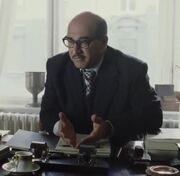 Posing as an Italian journalist, Robert interviewed Hamshari about the release of the Munich hostage-takers. Hamshari told him that for 24 years
Palestinians
were the world's largest refugee population, living in camps with no future, food, or any decency. Hamshari said that the PLO condemned attacks on civilians, although for 4 years, Palestinian civilians were attacked by Israelis. Hamshari told him that 200 people were killed in Israeli bombings in
Syria
and
Lebanon
right after Munich, and while Marie-Claude and Hamshari argued in French because Marie-Claude kept on interjecting in the interview, Robert asked if he could use their phone. Robert drew out the shape of the phone, and while he did so, Hamshari's daughter Amina played an upbeat tune on the piano, and she acted very friendly. Robert noticed that there was now a girl in danger of being caught in the explosion, which forced them to ensure that their plan would be carried out after Marie-Claude took Amina to school. The team, dressed up as hotel workers, entered the apartment while Hamshari was away, and they replaced Hamshari's phone with a bomb-filled one. Carl asked Avner how Hamshari was connected to Munich, and Avner told him that he was responsible for planning an assassination of
David Ben-Gurion
a few years before, and was also organizing for
Fatah
in
France
. Robert explained to him that when Hamshari would pick up the phone, a red light would flash, and he would turn the key in his detonator to blow him up, showing the simplicity of the plan.
On 8 December 1972, Avner watched as Amina and Marie-Claude entered their car with their valet to drop Amina off at school. Hans, Robert, and Steve witnessed this in their car, and Robert took out his detonator to prepare for the call. Carl picked up the phone and called Hamshari on his telephone, putting the dime in when Avner tipped his hat. A truck blocked the sight of the apartment from the car, so the team did not notice when Amina ran back inside the apartment to get her bags. Avner headed to the car to ask if the truck was blocking the signal, but they told him to go back to his position, as the truck would not interfere. Carl called the apartment, and instead of Hamshari picking up, it was Amina who picked up the phone. The team in the car could not see who picked up the phone, but Carl heard it on the phone, and he knew that an innocent little girl would be killed if he did not act quick. Carl and Avner ran to the car to warn the team, and they told them to abort just in time. Amina left with her purse and they drove off for good, while Hamshari returned to his desk to continue work. The truck moved away, and the team saw the car leave. Carl called the apartment again, and this time, they detonated the bomb when Hamshari confirmed his identity. The explosion shattered the glass of the window, but did not cause a huge explosion. Hamshari was sent to the Hospital Cochin, wounded in an unspecified condition. The second attack cost $200,000. 
They watched news coverage showing that Dr. Ami Shachori was killed in a bombing of the Israeli embassy in London via a letter bomb. Shachori did not pay attention to the letters because it was Hannukah time, and mail flooded the city. Carl told him that it was a response to Hamshari and Zwaiter, and Avner hung up on the phone. Avner was in Israel at the time, visiting his wife in a hospital, where she was giving birth to their son. Avner spoke with his mother outside of the room, and he then headed into the room, where he met with Daphna. He held their child, and Avner told her that she had to move to an arranged place in Brooklyn, New York so that Avner could see her more often. She moved into a Brooklyn apartment, and Kaufman was now assured that no harm would come to her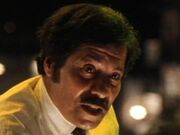 Next, the team headed to Nicosia,
Cyprus
, where they pursued
Hussein Abad al-Chir
, who moved into a room next to two
Israeli
newlyweds, marrying in Cyprus because his wife was not Jewish. Abad al-Chir was the Black September Organization's liaison with the
Soviet Union
's
KGB
, and he was a vital target. Robert said that they should put a bomb under the bed and blow it up when the lights were turned out. Avner decided to check into the room adjacent to al-Bashir so that he could signal the team by turning off the light, and Robert assured him that the bomb would not kill him. Carl also informed Avner that Dr. Hamshari succumbed to his wounds, so the team did not have to worry about him.
On 24 January 1973, the team waited in a car on the street in front of the hotal, while Avner relaxed in his room's balcony. Another car parked on the corner near the hotel, and Hussein Abad al-Chir exited, entering his apartment. On the balcony, he talked with al-Bashir. al-Bashir bade him "good evening" and that it was a beautiful night, and asked him where he was from. Avner told him that he was from Dusseldorf, while al-Bashir thought that he was a Swede. al-Bashir taught him that he taught Near Eastern languages in Sweden and told Avner that he taught Lebanese immigrant maids how to clean in Swedish. al-Bashir warned Avner that he should take a sleeping pill, because the newlyweds would be "at it" for hours and would keep them up. When al-Bashir entered his bed, Kaufman headed to his light, which he switched off. As he walked away, an explosion rocked the three balconies (the Israelis, al-Bashir, and Kaufman), a bigger explosion than planned. Alarms blared, and Carl told the team to escape while he ran into the building to check up on Avner. Avner coughed in the dust, and he walked through the wreckage, finding the hanging torn-up body of al-Bashir hanging from the roof. Avner and Carl helped the newlywed couple to escape the devastation, with the woman being blinded by the ashes and the man being naked. Carl and Avner proceeded to escape from the hotel. While Robert and the team argued (Robert said that the marking on the explosive was changed), Avner sat there ignoring them. Hans asked him if Louis gave him the explosives, and Hans told him that Louis might have worked for the PLO and done internal housecleaning using the Israelis. However, they were reassured when they found out that their fishing boat was arranged for by Louis.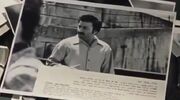 Avner waited outside the Cuisine Moderne building in Paris, where he was looking at a kitchen set. Louis headed to him, and he told him that fear made some bombmakers sloppy, in a way apologizing to him for his near-death experience. Louis told him that he found three names:
Kamal Adwan
,
Kamal Nasser
, and
Abu Youssef
. They were in
Lebanon
, living in a Beirut apartment. Avner decided to pay Louis a little extra; $600,000 for the operation. Louis warned him that if Avner worked for
MI6
,
CIA
, or
Mossad
, he would reach an abruptly unreachable and unhappy end. The team met with Ephraim, and Steve told Ephraim that Adwan planned all of the operations in the
West Bank
, Abu Youssef was the second-most-serious man on the list, and they said that they wanted to take part in the operation to get the three people. Ephraim told him that excluding the army or Mossad was impossible, and Avner told him that they would accept it, but the source wouldn't - it would be strange for Louis to see news reports of Israeli commandos killing the same three men that he had given to Avner. Avner Ephraim him that he did not have to follow his orders because he did not officially work for him, refusing to betray his source. Avner told him to let the team go to Beirut, and after Beirut, they would use the source to kill the remaining targets, and asked him to let them do their jobs.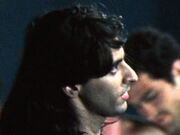 The Mossad met up with the team, which dressed up as tourists, with many of them cross-dressing to look like female tourists. They also met with
Ehud Barak
, the future Prime Minister of Israel, who shook hands with Avner. The tourist-dressed team walked up to the PLO guards at a guard checkpoint, and they killed all of the guards using silenced weapons. The team then ran to the apartment of the three men. They headed up a few stars and breached the door, and they found Kamal Nasser hiding under the fallen door, shooting him eight times. Next, they shot Kamal Adwan on his bed, and then broke into Abu Youssef's room after Abu Youssef killed one of the Israeli team members. They killed Abu Youssef and also shot his wife when she shielded him with her body as they shot at him. The team left the apartment as
fedayeen
arrived, and they engaged them in a gunfight as the Israeli team escaped from the building. They gunned down several enemy fedayeen on the streets, and they escaped on their boats. Louis headed in his car to meet Avner at the usual place. Avner spoke with Louis, and Louis told him that his Papa wanted to meet him; he ran Le Group. Avner denied that he was in Beirut, and Louis told him that according to every newspaper on Earth said that the Israeli army attacked the terrorists. Louis told Avner that he could not tell his team where he was going, and that he would need to wear a blindfold if he wanted to go with him to meet Papa.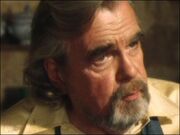 They drove to the French countryside, and a small girl of the family took Avner to meet Papa, who was cooking in the kitchen of his family compound, which was full of his family members. Avner headed to the counter to help Papa with cooking, and Papa told him that he had too big hands to be a good cook, having butcher's hands - this referenced the fact that he was an assassin. Papa told them that the two of them were unfortunate to have butcher's hands but kind souls, and Avner found it to mean something different to him, as he killed several people. Papa asked Avner if he was devoted his father when he refused to call him Papa, and Avner said that he only called his father "Papa". Papa told Avner that he forgave him for Beirut because he did what he did because he had to feed his family. Avner later sat down for an outside luncheon with the whole family, and Papa told him that he blew up trains, bridges, and trucks full of German soldiers during
World War II
 while in the
French Resistance
. Papa told him that his brothers were killed and his father and sister were hung, and he said that he did what he did so that
Vichy
scum could be replaced by
Gaullist
scum and that
Nazis
could be replaced by
America
and
Stalin
. When Louis was insulting Avner as a backstabber in a prayer before the meal, Papa told him that he had respect for a man who would call only his father "Papa", and called his son a minotaur and insulted him. Papa said that Le Group and Avner would continue together, but with no more infractions. When Avner entered the car, Papa told Avner that he could have been his son, and he gave him andouilletes, black blood sausage, and Loire cheese as a gift. However, he told him that he wasn't family, although they would continue to do business, warning him that he would not tolerate any more betrayals.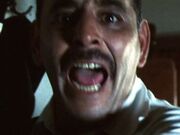 Avner returned to his meeting place in Paris, but before he left, Louis told him that he had the location 
Zaiad Muchasi
; Louis knew where Salameh was, but he was untouchable. Muchasi was not on the team's list, but he was going to be in Athens,
Greece
in two weeks, acting as Black September's new KGB contact, and he was said to be much tougher than his predecessor Hussein Abad al-Chir. Avner paid him $200,000, and the team moved into a safehouse in
Greece
provided by Louis. The safehouse was dirty, but they had mattresses that they could use. They found out that a Greek doorman was bribed to let them into Muchasi's house, and they would kill him with a bomb. That night, they woke up to hear men walking in the hallway, and they entered the room. They engaged in a tense standoff with guns, with Robert defusing the situation by claiming that he was a Basque
ETA
member and that Hans, Carl, and Avner were
Red Army Faction
and Steve was
African National Union
. Ali introduced his teammates as Said, George, and Abed, and said that they paid for two nights at the safehouse. They were friendly with each other, and they believed that all of them were given the safehouse by Louis.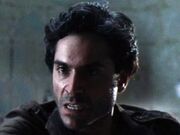 Steve and one of the Palestinians argued over whether to play Arabic traditional music or French pop on the radio for a short bit, but they eventually settled on playing the song "Let's Stay Together" by Al Green from 1971. Avner and Ali talked in the hallway while the others listened to music inside. Ali told Avner that soon, the Arab states would attack Israel again, and although the Arabs did not like the Palestinians, they hated Jews more. Ali told them that this time, the world would see what the Jews did and would not stop
Egypt
,
Syria
, and
Jordan
from attacking. They debated about Israel, with Avner saying that there were lots of places for Arabs and that Arabs were going to live in refugee camps waiting for Palestine, while Ali said that he would have children, and they would have children, and they could make the full world unsafe for Jews. Ali said that although it would take a hundred years, the Palestinians would ultimately win. He asked Avner how long it took the
Jews
to make
Israel
and how long the
Germans
took to make
Germany
, and said that home was everything. He also pointed out how he criticized the Palestinians, although he had a home to return to, while Palestinians did not. Avner asked him if it was worth it to kill to return to his father's olive trees, and Ali said that it was absolutely worth it
On 11 April 1973, they prepared their assassination of Muchasi despite being friendly with his guards. Robert planted the bomb in Muchasi's television set, and the team shot out a streetlight above their car to avoid identification. They saw the Palestinian bodyguards and the Russian KGB agents exiting the car, and Muchasi entered his apartment. The bomb did not go off when Robert detonated it, so Hans took a grenade and decided to enter the Hotel Aristides and take him out himself. Hans entered Room 65 and threw the grenade in the room, and Zaiad Muchasi called Ali, and tried to reach for his gun. However, Hans held the door shut, and the explosion killed Muchasi. Hans was wounded, but he was able to escape. The doorman fled, and the KGB agents tried to shoot at Hans as he fled. Steve shot a Russian, and Avner was forced to shoot at Ali when Ali fired on him. They entered the car, and Carl fired five shots at Ali, killing him. Carl panicked about killing a Russian, while Steve criticized Robert for his failure to build a good bomb. Robert revealed that he was trained by Shin Bet to dismantle bombs and not to build them, havin picked him from the Israel Defense Forces. He revealed that after Munich, he was asked to build bombs instead, and he agreed. The team left the angry Greek doorman with some money before they left in their car.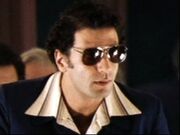 Louis told Avner that Salameh was going to meet his
CIA
contact in London next; Louis told him that the CIA gave him lots of money so that he would not attack American diplomats, and they did not ask where the money went to. They sat down and talked about Salameh as news coverage of a Palestinian attack in which three men headed to a customs hall, assembled the pieces of their rifles quickly, and threw hand grenades into the long queues of passengers at an airport; they began automatic fire, and one of the guerrillas was shot in the head with a ricochet bullet, while another was killed by his own hand grenade. Louis said that Europe was interesting now, as there was a bombing in Amsterdam, an attack on people in a Greek airport, and a Mossad agent in Barcelona was killed. Avner found out that Salameh was undergoing eye treatment in London with his bodyguards, and they waited to kill him one night.
When the team gathered, they found out that they had a chance to kill Salameh, although he was surrounded by armed men and civilians. They decided to kill him later that night as he left from his appointment. The team walked down the streets with umbrellas on a rainy night, finding Salameh walking with three of his bodyguards. Carl and Avner both had pistols ready, and Steve prepared a pistol in his car as Salameh and his men walked by. Avner came from up front while Robert and Hans came from behind about to kill them. Suddenly, some American men blocked Avner, pretending to be drunk Americans, with one of them, Orrin, said that he thought that Avner was his friend Roger. They left and entered their car after Salameh and his bodyguards entered their cab, having been covered by the Americans. The assassination attempt went awry, and they lost their chance to kill him - his death would be at the hands of another person, Erika Chambers, in 1979.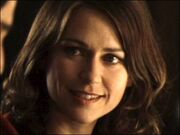 Avner later drank at a bar, where an attractive Dutch woman named
Jeanette van Nessen
talked to him, trying to get him to go to her room and have sex with her. Avner refused, and when he left, he spoke briefly with Carl. Carl told him that he never thought that he would last, and said that he reminded him of some men that were with him in the Army, saying that the only thing that could scare Avner would be stillness. Avner warned him to avoid the local "honey trap" before he went to bed upstairs. Later that night, his wife called him, and their baby spoke in the phone, making Avner cry, as he missed his family. Avner hung up soon after, and he had a nightmare about the Munich Massacre. Avner later decided to go to Jeanette's room, and he smelled the woman's strong perfume on Carl's door. When Carl did not answer his knock, Avner entered the room, and found Carl lying naked on his bed. He lifted up his head, finding blood on his pillow. Avner figured out that the Dutch woman must have killed Carl after seducing him, and he headed to Louis to track her down.
Avner met with Louis and Papa at a table in Paris to find and kill the assassin. Louis identified her as a non-political and entirely business-minded Dutch assassin who lived in Hoorn, Netherlands, and Papa told him that the information would be free of charge to convince them that they were not responsible for the death of his partner. Louis gave Avner a black-and-white photograph of Avner exiting a car, saying that he was not the only one with names. Papa warned him that he was being hunted as well, with more people like Jeanette being out there. Avner told Robert that he did not have to do the next job, as Robert was losing his sense of righteousness, which he felt was what it meant to be Jewish. Robert headed back to his shop in Belgium while Hans, Steve, and Avner headed to Hoorn to avenge Carl.
They arrived at the houseboat in Hoorn where the assassin Jeanette stayed, and they had improvised .22 caliber pistols. They entered the house and found Jeanette, who said that it would be "a fucking waste of talent" if they killed her. Jeanette slid down her robe to reveal one of her breasts, but Avner and Steve hit their improvised pistols, shooting her twice in the chest. She walked past her counter, where she hugged her pet cat, and she sat on a patio chair, where she began to suffocate, and blood pured out of her wounds. Hans walked up to her and fired the final shot into her forehead. Avner covered her corpse with her robe, but Hans insisted that the robes be left open, showing her naked body with three bullet holes. In seven months they had killed six names, killed one off the list, and got one in prison. Since then, 11 letter bombs were sent to embassies, 130 passengers were killed in Athens, and three planes were hijacked, and many of the attacks were caused by Carlos the Jackal, Muchasi's replacement. Hans told Avner of these facts, saying that Black September's original leadership was decimated, but new leaders were growing. He said that they spent $2,000,000,000 so far on killing their targets, and Hans asked if Avner would stop killing after the eleven targets were killed. Hans said that every one that died, six more grew. Avner said that he would keep on killing and eventually wake up without thinking of it. At their dinner on a rainy night in Frankfurt, West Germany, Hans kept on drinking while talking to Avner about their assassinations, and he told Avner that he wished that he let Aver close Jeanette's housecoat.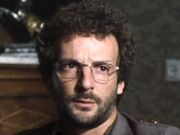 Steve came up to Avner, telling him that he went to the apartment above Hans' antique shop to check up on him, but he did not go back to his shop. The two found Hans stabbed to death on a park bench that night, under a bridge and on the shore of the Main River. They sat with him for a while, having lost their second team member to the Palestinians. Avner became paranoid, sleeping with a gun in his hands and cutting his bottom mattress open to make sure that there was no bomb planted there. Later, Robert was killed in a sudden explosion that destroyed his workshop in Belgium, and he was the third team member to die. 
Avner met with Louis at the usual spot in Paris, and Louis told him that Ali Hassan Salameh was in a beach house in Tarifa on the Spanish coast on 11 November 1974, and Louis said that although it was dangerous to kill Salameh, eliminating him would avenge the Munich massacre. Avner decided to go on one last mission with Steve, heading to Tarifa. They were dressed in black stealth outfits with knit caps and facepaint, and Avner carried a sniper rifle. They took cover behind a patch of plants next to the swimming pool of the beach house as Salameh was holding a large party that night. They spotted Salameh in the house greeting his guests, and Avner prepared to shoot Salameh with his sniper rifle. However, when Avner switched the safety switch off on his sniper rifle, a teenaged Arab guard yelled, and Avner took the side of his upper right head off with a sniper bullet. Avner and STeve fled from assault rifle fire from Salameh's guards, and Avner threw away his cap and gun as him and Steve fled.
When he returned to Lod Airport back in Israel, he was picked up by IDF soldiers Amos and Avi in their jeep, and they drove him back to their headquarters after hailing him as a hero. He met Ephraim, who told him that he had no problems with the job that he did, except for the woman on the houseboat in Hoorn, but he had little problems. He told him that Steve had sung his praises, saying that he was the best man that he had ever worked for. Ephraim asked Avner to give up Le Group, and Avner said that it was about loyalty, refusing to give up the group, although Ephraim said that his only loyalty was to Israel. General Hofi of the Northern Command entered the room and said that the Prime Minister would have wanted to meet him, but she "never heard of him", so she could not thank him. Hofi told him that he did well for the people of Israel, but there was no medal or anything to commemorate his services due to the top-secret nature of the mission. Ephraim tried to get Avner to give an interview to him, but Avner refused to give the names and numbers of his sources, and Ephraim threatened to have him court-martialed; Avner said that he "never worked for him", and he left.
Avner then headed to his mother's house, where she said that most of her huge family died in Europe in the Holocaust. She said that she didn't die because she came to Israel, and when she arrived in Jerusalem, she prayed for a child, although she had never prayed before. She told Avner that he was what she prayed for, and she told Avner that the Jews had to take Israel because they could have a place to be a Jew among Jews, a subject to no one. His mother was not informed about the nature of his mission, but she told him that she was proud of him for doing what he had done.
Avner returned to New York City, where he met with his wife and their child at their apartment, having given up his job with Mossad. He resigned from Mossad while going to the airport, refusing to go to Latin America for another mission. Kaufman lived peacefully with his wife in their Brooklyn apartment, but he had several nightmares and troubled thoughts. He was still haunted by the scenes of the Munich massacre, and he was still paranoid about either the Palestinians or Mossad killing him. One time, he entered the Israeli embassy and broke into the consul's room, telling him that if Ephraim was spying on him or trying to hurt his family, he would fight him. Avner was constantly worried about being followed by people, and one day, Ephraim called him on the phone at his apartment. He met him on the docks along the East River, where Ephraim told him that he thought that Avner was losing his mind. Avner asked for proof of the targets' involvement in Munich; Ephraim told Avner that Professor Hamshari was implicated in a failed assassination attempt on Ben Gurion and was recruiting for Fatah France, and Wael Zwaiter was responsible for the bombing of El Al Flight 76 in 1968 and was building another bomb in August. Avner asked Ephraim if he was sent to replace the terrorist leadership or the Palestinian leadership, and he said that worse people were coming to lead the Palestinians. Avner refused to return to Israel, and Ephraim left him for the last time, refusing Avner's request to "break bread" with him at his house. Avner returned to his house, having left the Israeli cause. In the end, nine of the eleven Palestinian men originally targeted for assassination were killed, including Ali Hassah Salameh in 1979.
Kaufman went on to become a security consultant and writer, and he was one of the people hired to investigate the Pan Am Flight 103 bombing of 1986, in which a passenger plane for Pan American Airlines was blown up over a Scottish town called Lockerbie, where many people were killed by the falling oil and wreckage. He concluded that it was a part of a CIA drug ring; the CIA allowed a Syrian heroin distribution ring to run drugs in exchange for Syria helping to recover American hostages held by Hezbollah, but in this case, the Turkish extremist baggage handlers swapped the suitcase of heroin for a bomb suitcase, hoping to cause a terrorist attack. This theory would conclude that Turkish terrorists were ultimately behind the bombing, but it would reveal that the USA was helping drug dealers.